Another Christmas and another big foreign tour. Once again I'm spending my winter in a different country. This time around, I've decided to take some of my family to see the Andalusian region of Spain. As usual, we were taking the sensible option of flying into Malaga, hiring a car, and controlling our own schedule. If you have the ability and confidence to go down that route then I'd highly recommend you do the same.
Having been here so often before, I decided to spend less time taking photos and more time just enjoying the experience with my own two eyes. So, yeah, that's why there's not that many pictures of this trip.
Ronda
First leg of the trip was a drive up to the Andalusian mountains to the beautiful and serene town of Ronda. It's best known for its bullfighting heritage and the fact so many celebrities have called the place home (including Ernest Hemingway and Orson Welles). We were staying at the Hotel Arunda II… which wasn't very nice if I'm honest. There are lots of great places to stay, so check out Tripadvisor first before you book a room for yourself.
Gibraltar
No trip to Andalusia is complete without a visit to Jabal Ṭāriq ("The Mountain of Tariq ibn Ziyad). As I've discussed before, it's ridiculously expensive to stay in Gibraltar itself. However, there are many hotel options on the Spanish side (for example, at La Línea de la Concepción) that are much cheaper. And it's usually easy enough to park your car in a Spanish-side multi-storey and just walk across the border into Gibraltar and catch a bus to the town centre. We actually stayed in a hotel in Algeciras, not too far away, as we got a great online deal on an apartment with its own parking!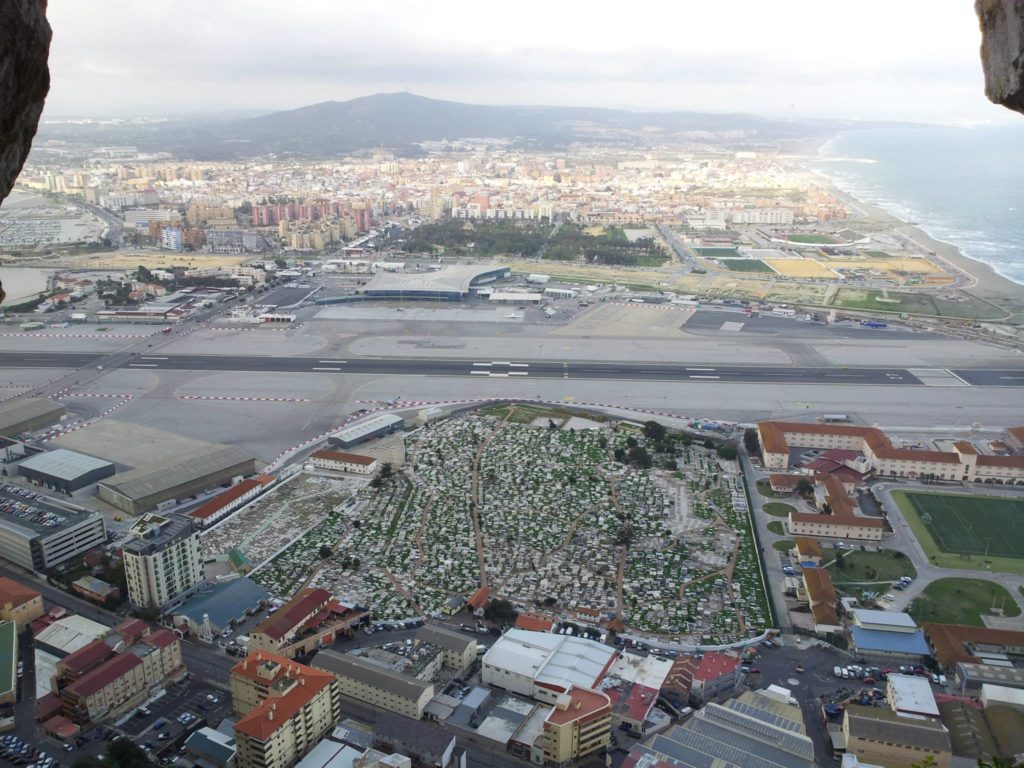 Córdoba
Cordoba has a rich Moorish history, with the centrepiece being the world famous La Mezquita – a grand mosque that was converted into a Cathedral after La Reconquista (the reconquest of Iberia by Christians) in 1236. WARNING: If you're a Muslim then be warned that visiting La Mezquita can be heartbreaking, seeing what was once a wonder of the medieval Muslim world being used as a Christian place of worship.
If you are visiting La Mezquita then you'll want to take some time eithe before or after your visit to explore the courtyard and its Patio de los Naranjos, full of orange trees, where Muslim worshippers would complete their ablutions before heading inside for prayer. And if you're reasonably fit then be sure to climb the bell tower (formerly the minaret)
One Cordoban site I managed to see on this trip that I hadn't experienced on previous visits was the "Caliphate City of Medina Azahara". Madinat Al-Zahra – the ruins of a glorious Moorish Palace complex on the outskirts of the city – was the defacto capital of Muslim Spain in the 10th century and was deliberately built to be a ridiculously ostentatious display of the power and wealth of Caliph Abd-ar-Rahman III and his descendents. It is just ruins and you can't see much of what it used to look like. However, they do play you a film, before you start your tour, which digitally recreates the complex virtually.